Warning One. I hate this man.
Warning Two. Yes, he is a man.
Warning Three. He's a huge flirt.
Warning Four. He wears pink.
Warning Five. He has the most annoying voice ever.
Welcome to this post thing- I hate myself right now because I did this. I shouldn't have. I really wish I hadn't. I mean, it was nice to make it and it's neat to have, and naturally, Zelos would be next in line for me, but seriously? This man is just too strange for words, and if I could, I would trade you for Kratos any day you DISGUST ME ZELOS AHHH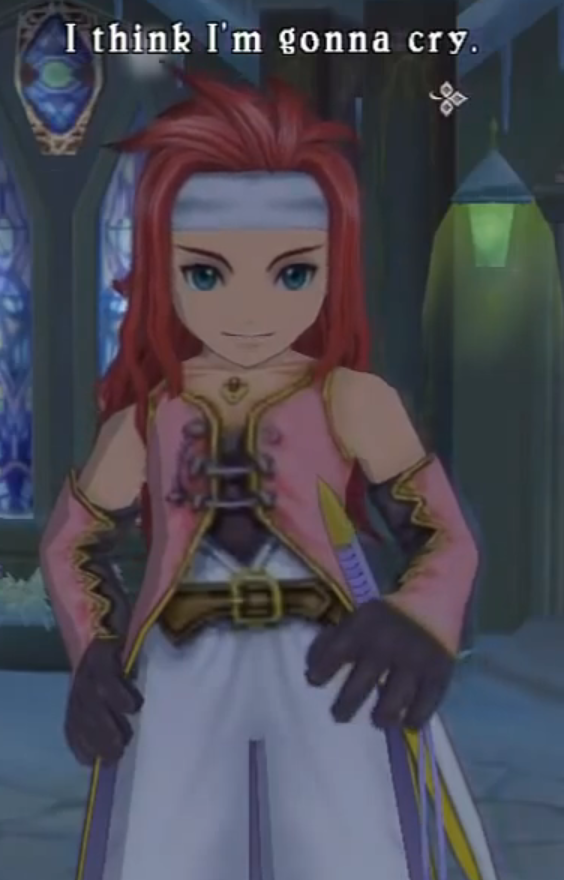 So yes, this is Zelos, the terrifying man-lady-dude-woman-person-thing. He's a huge flirt, but looks extremely like a girl. His voice doesn't fit his looks in the least, but you can't help but wonder if something's wrong with him. Which, yes, there's a lot of things wrong with him, but the main thing being is, Zelos is the Chosen of Tethe'alla, a specific person born in order to revive Mana to the world and regenerate the world. During the story, Zelos is wedged in between being a threat or being a friend, and eventually causes spoilers to happen. Zelos' true story lies behind his past, where his mother was murdered before his eyes, and told him that he should never have been born. Zelos begins to create a mask of social narcissism and popularity.

And that's why he's so pink.

Luckily for you, this costume doesn't come with all of those complications- it's just for looks. And pink. This skin took me more than a day, (shocker, considering all of my Symphonia sets have been done in less than 24 hours each) and that was because I've been ill as of late. I was going to work on making his coat a bit more refined, but model limitations kept me from it. It isn't as great as I wish, but hey. Zelos. That's all I can say.

Oh yeah, and Zelos can Demon Fang too, AND he says it more annoying than the other two, so, DEMON FANG, DEMON FANG, DEMON FAN--

*shot*
Tales of Symphonia - Zelos Wilder : Narcissistic Chosen
Please click the link below if the previews above do not work for you. They SHOULD work now, (I figured out a thing) but if they don't, click it, and you can get to the album directly.
http://imgur.com/a/Wkoie
~Screenshots~
Levi Cosplaying as Zelos. I'm sorry, I have to make them adorable.
Petra Cosplaying as Zelos
A reeeealllyy good screenshot
Ahhh I feel glad that this thing is over, but I'm a bit lost on other sets. I should say that some of the other sets can't be unisex, so I may have to do them separately, guys. x-x I'm sorry, I've tried REAAAALLY hard to keep them in the Unisex sets. But, I will definitely try. Next up, I'm not sure. I might do Raine, if anyone has suggestions, please, do so. I would love to hear what you guys think. x3

Happy late Halloween also. I kind of missed it. Sorry. xD I had to take kids trick or treating and I was forced to dress as Princess Zelda, and my social anxiety made me terrified and ehhh. It wasn't fun. xD

Anyways, thank you all for reading this far, have a lovely day/night, stay safe and take care, everyone. x3

_________________
-And now I try again my hand, at taming ghosts and counting sand.
I'll meet you on the other side, but hey- It's one in a million.



Entirely retired. I wish you all well.