There are still quite a few things I'd like to see in a future update, maybe not just RC Mod but also Feng's game.
1) Weather effects
Actually just a rainy option would be more than enough. I'm a big fan of alternative ways to show off a stage. Rain could also appear spontaneously with changing sky textures.
Returning fog would be nice as well, so it's more dangerous to fly around.
2) Changeable sky textures
That's something I've always wanted since it was possible to change textures. I don't like the sky at all so changing them would be a big help. The game could look like this: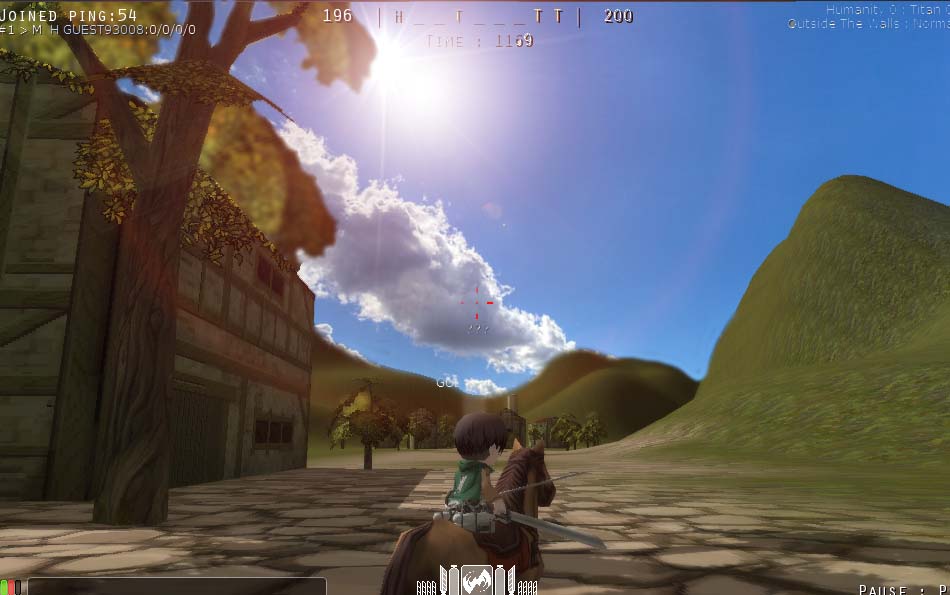 3) More objects
Having a pyramid to form objects would be a big help. Of course, other objects would be even better. However, hopefully more people are able to make objects so RC can implement them.
4) Torches
There's not much to say, but I think it would be such a nice feature to have torches on a map. People can meet there during night or replay some of their favourite scenes ingame.
6) Changeable Spawn Point
Of course, maybe the most important thing: Changable spawn points for the players so they won't be stuck in the ground or something. xD
However, having a spawn point for teams would be awesome as well. Imagine being in a team (cyan or magenta) while playing Bomb Mode and you can spawn on the other side of the map.
5) Water / Lava for Level Editor
Since people will build cities, the might rebuild Stohess or Trost. Having water or even lava would be a nice feature, maybe they will take them with you when you fall in.
I also thought about having water influencing your 3D Maneuver Gear. For example, when you fall into water, you need to wait a few seconds so the gear can dry during this time. Alternatively, you could fall into the water and see everything a bit blurred. Being in the water slows down your movements and your gear. When you shoot your hooks, they will speed up with only half of their normal speed.
There might be other things I thought about as well, but I can't remember them for now.